Préc
Suiv
Renseignements
Reservations
Who is Jacques, who is Laurent? Born in Agde (Hérault) in 1964, the Pourcel brothers are undeniably twins.
In 1988, together with Olivier Château, they created Le Jardin des Sens in Montpellier. This restaurant quickly became a gastronomic reference in the South of France and well beyond its borders. Since then, they have opened establishments around the world, represented France at the French Pavilion of the Shanghai World Expo… They have trained a host of chefs, many of whom are ranked among the best in the world, and who are now installed all over the world and always refer to the two brothers.
They do not claim to belong to any school, they love to discover and share their passion.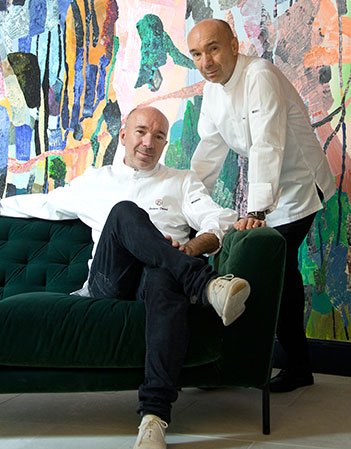 Mediterranean at heart and soul, they love the sun, naps, family gatherings, parties with friends, vines and gardens, summer and grasses, sharing and transmission, sowing the seeds of curiosity and getting drunk on the mistral wind, getting lost in the horizon.
They are chefs. Their cuisine sings the Mediterranean with fervor and talent; the flavors of the great Mediterranean, Jacques & Laurent Pourcel are passionate about all the countries that border this sea, Spain, Italy, Greece, Lebanon, Morocco…
Their philosophy is "no good cooking without good products". They travel the land to find good producers, small farmers, and fishermen to find and share most exceptional products.
They remain agitators of the senses, to go faster and higher. With the desire to be and remain themselves, ignoring fashions and influences.
Simply and boldly they dare!
Passers-by of Mediterranean tastes and emotions, stimulators of events and encounters, creators of concepts that make their way, provocateurs of impertinent tastes, inspired by the world around them, at over 50 years of age they continue to shake up the culinary scene. The trio of Olivier, the manager, Jacques the globetrotter & Laurent the chef will surprise you again in Montpellier, because their future still lies in creation and extravagance.
Their principles and their creed:
Share, approach new cultures, transmit our knowledge and allow even modest gastronomy to exist a little bit around the world.
Nourish creativity, anticipate trends, and break down borders. Travel, discover, be nomads in spirit.
To create – it is the story of an encounter with countries, cultures, civilizations. There, their inspirations are born to render a mix́ of their knowledge on the plate.
Pushing doors, that of openness to others, that of respect for products and the environment, that of audacity and passion, and also and above all, that of recognition of one's roots, one's terroir.
The recipe for creation: gymnastics of the mind, a vision towards the future, a radiance of knowledge and above all the desire to share…
Sense – a word that has always fascinated them – giving meaning to their lives, and always as twins they are, side by side walking in the same direction and dragging with them a team.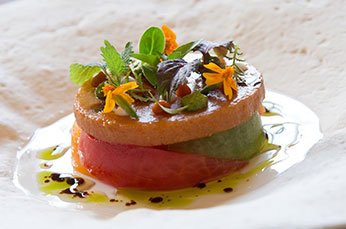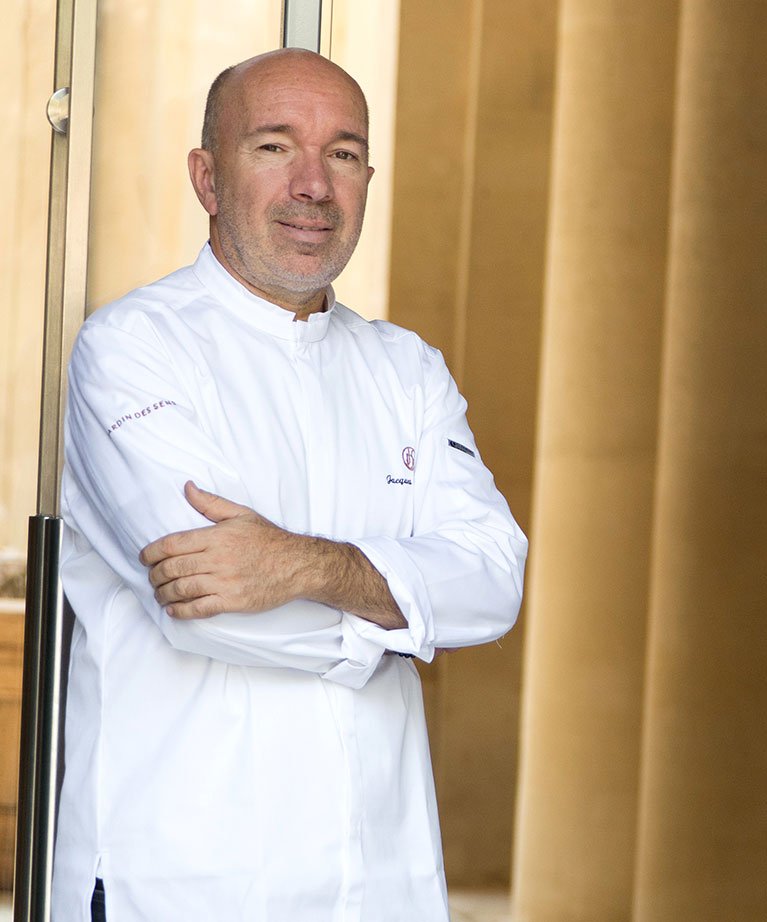 Head in the stars – « Never without my plane, my camera, my computer » – When asked what he takes with him on his travels, Jacques Pourcel immediately answers: his camera, his curiosity, his wanderlust and his freedom!
An inspired chef, creative, a great traveler, a culinary agitator, daring, a man of words and wit, free and curious, overflowing with humor and fantasy, derision and imagination, passionate about cooking and travel, he sets out to discover new restaurants around the world and participates in gastronomic festivals from Miami to Mexico City, from Saint Petersburg to Saigon. He has put meaning into his life, brings with him collaborators and teams, shares and transmits without limit his knowledge and his sharp mastery of the kitchen
The firebrand of the group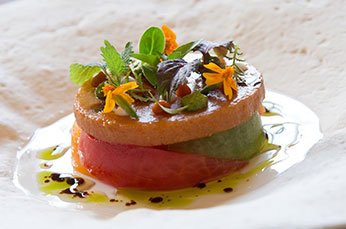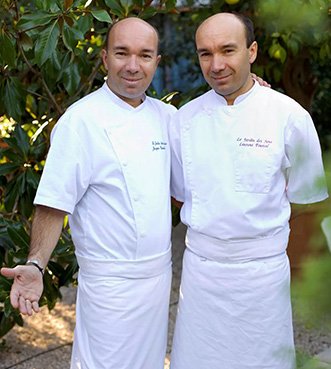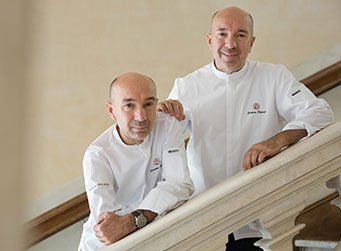 Chef, soul of the Jardin des Sens, culinary creator, gatherer of toques.
A cook at heart and in spirit – « never without my stove and my knives ». – He is the guardian of the kitchens. Idealist, orderly, discreet, totally, viscerally committed to the world of cooking, he prefers to concentrate on the products and the recipes than to run around the world. He finds balance and peace within his family and in his stays in Japan – Laurent Pourcel loves Japan and extremely Tokyo. He likes this island where restraint is a rule, where futuristic modernity and secular tradition merge into a particular art of living. There is no shoving, no irritation or impatience. Smiles, courtesy and punctuality reign everywhere. Impassivity, order and beauty. Calmness triumphs everywhere, as does the calm and serenity that the chef brings to the kitchens of the Jardin des Sens.